Lifting a weight that's too heavy for you is a mistake regardless of the part of the body you're working, but it can be truly disastrous when performing shoulder exercises. The shoulders are delicate and complicated joints that are not especially easy to target, and if yoau do put them under too much pressure before they're ready you can end up with injuries that put you out of action for months.
It is also, however, absolutely essential to schedule some shoulder-specific exercises into your workouts, because without strong Noddy Holders, you're going to come up short when attempting all sorts of other lifts, especially when training your chest and back.
The shoulder is made up of three heads – the anterior (front delt), medial (side delt) and posterior (rear delt) – and you need to work all three of them, along with the trapezius muscle in the upper back, for a truly satisfying shoulder session.
If that sounds like a lot of planning, we have some good news – we have a workout that works all those muscles right here!
The workout below is broken down into a pair of tri-sets, making six exercises in total, all of which do a sterling job of working all three heads of the shoulder and the trapezius muscle. To get the most out of it make sure you stick to the sets, reps, tempo and rest detailed, and don't go too heavy with the weight to start with. If you start to find any of the rep counts too easy, add a little weight. Do this workout twice a week for a month and watch your shoulders turn into boulders.
You'll need a barbell, dumbbells and a weights bench for these workouts. If you can't get to a gym and don't have the weights at home then we also have shoulder workouts that can be done without equipment, or using cheap bits of home kit like resistance bands. Jump to more shoulder workouts.
Overhead Shoulder Press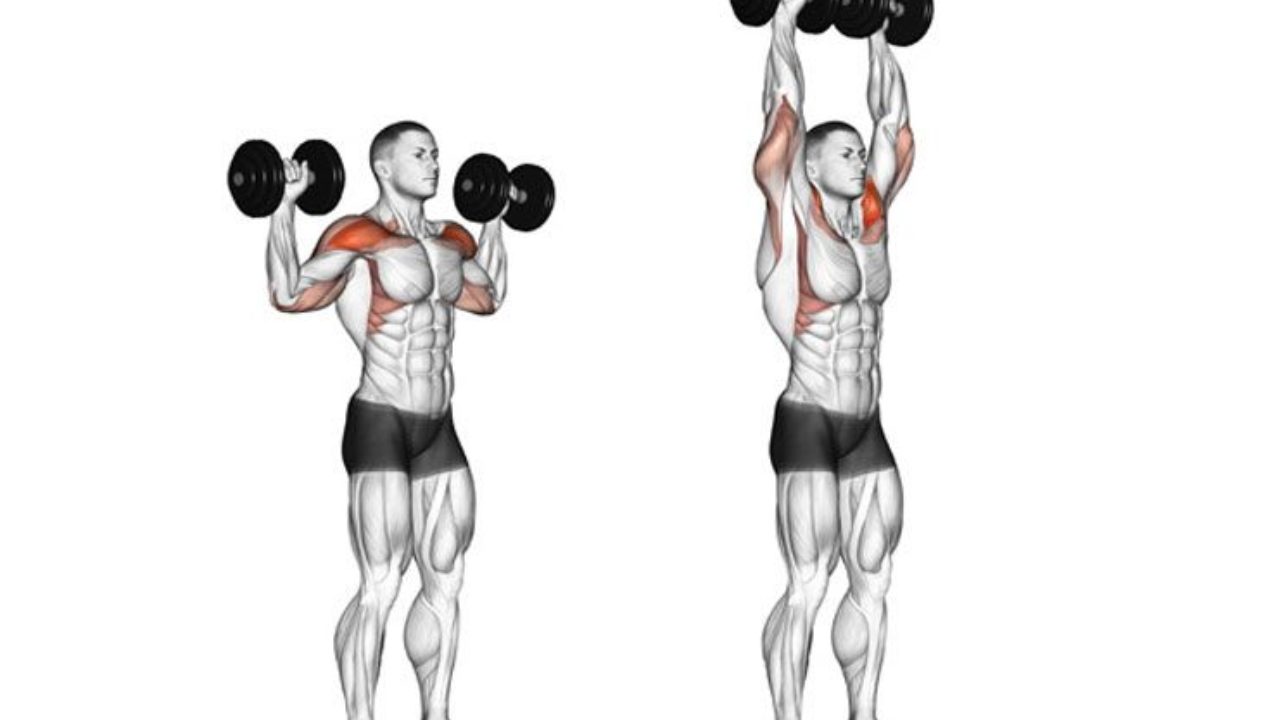 Muscles Targeted: Deltoid (anterior, medial, and posterior) and trapezius
Equipment Needed: Cap Barbell Dumbbells
Reps: 12 to 15
Sets: 2 to 3
This exercise can be done standing or seated. With a dumbbell in each hand and holding the weights at the shoulders with an overhand grip, start with your feet hip-distance apart, keeping the back straight. Press up and bring the dumbbells together over your head, then slowly lower back to starting position.
"Avoid arching your back by keeping the abdomen braced, glutes contracted during the press, and tipping the pelvis inward slightly," says Gretchen. "Lower the weights only to your shoulders."
Once your shoulders are fit and used to weight, you can add on the pounds and make this a low-rep, high-return muscle builder, but start lighter to stay safe.
Open Next Page To See More…